It's been a while since I've posted. Here is a bit of what I've been up to. I've allowed Mike to join a makerspace called "Lowell Makes". Which is here in Lowell, Massachusetts. By allowed, I mean he joined and then told me about it…there was no me saying 'Ok' at all. If you haven't heard of makerspaces they are basically a basement for a person who lives in an apartment or condo that doesn't normally have a basement. It is a space where people can come and create, do, make, prototype and design. It's a space full of tools that you might not normally have access to all in one space. Depending on the needs of the people the space will have different items. Currently we have a woodshop (which is lacking walls, but more about that later)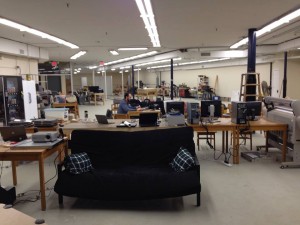 Mike is very excited about the space and loves to help out making the space great! This makerspace has only been around since November and has a lot of work to go. They currently have a fundraiser over at indigogo to help purchase the walls to enclose to woodshop and stop the dust from caking up the walls and computers. Along with a dust collector system which will really help the space and keep it safe for the wood shop workers. I am Excited for the hard work going into the place and it's so cool to see it come together. Every day there is something new, a new pile of rubble, a new wall being built, and new bathroom. Currently the furniture is in a new place every day. Unique little nooks of tables float around the space depending on how people use the space. It's awesome to see the place transform.
Mike is working on a few projects such as a vending machine that not only advertises the space via twitter, but also vends items for free (eventually will vend high priced items by the tap of your membership card, 30$ Arduino or 35$ raspberry pi ect.) He is also working on setting up a computer lab for people to come learn from James how to use CAD Software. The cad software is great tool to learn, since we have a 3d printer in the space. Once you have the knowledge to do, you can do whatever you need. 🙂 This week they are building the walls around the Woodshop with the little funds they have acquired through indigogo, but still need funds to get that expensive dust collection equipment. Mike has already taught with his friend Sajin an arduino class which was very informative and I hope that they come up with a second class on the topic because you learned some very basic information, now I want more!! 🙂
The things that I've worked on didn't really require lowell makes to make…I typically go down to help mike do simple things like wash floors sweep, and just visit with my husband…because if I didn't, I probably wouldn't see him anymore. Here are a few projects I've worked on since we joined this space.
Here is the first project I made for this space, it's some simple pillows for the couches, which lacked pillows and the womanly touch.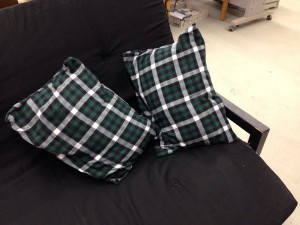 Once entering the space I noticed some of the chairs in the space needed a little upholstery work. Not worn or torn, just stained and not inviting to sit in. So, I've been encouraged to change that…so I am teaching myself how to reupholster.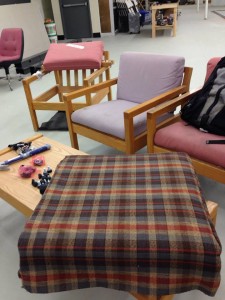 The Plaid is what I've managed so far. The purple and pink chairs are the chairs that I'm reupholstering.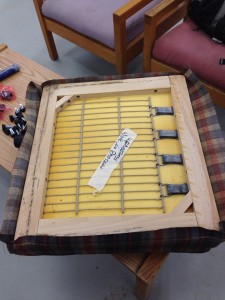 This is the bottom of the chair, I just need to secure it with some staples. I also need to pump out 4 more bottom covers on the ol' sewing machine. Then I just need to make a back cover too. 🙂 Sit down, I got this! 🙂 I just need to find the motivation to continue the project. Originally, I was excited…"Can I do this?"…then I answered the question "Yup!" Ok, Motivation gone. Haha. But, I will. One chair at a time.
Here is my latest Crochet Project which has taken me considerably less time then my 7 year kitting project. I did that work in about 2 week window of time. I really like the idea of switching colors ever 2 rows, It keeps me motivated to crochet more in one sitting.  Very fun!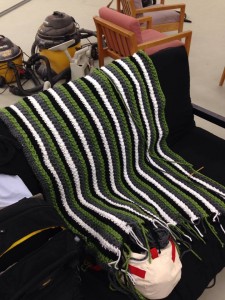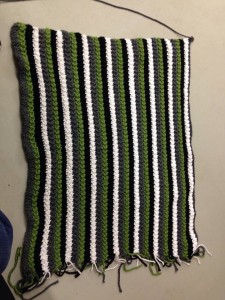 It is very thick and warm too. I am super motivated to crochet/knit/sew in the winter. It's so cozy to just sit and cuddle up in the project i'm making. I am motivated more to crochet more when i'm cold.
Something that has been very fun that this space has is a 3d printer!! 🙂 It's  very exciting. I've only made small items like snowflakes and things that don't take long to print, but mike has put some serious time in creating things that have many parts such as the robot guy holding a robot/gnome.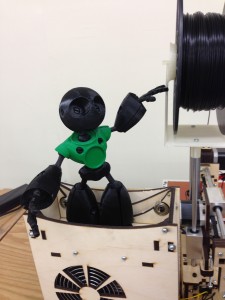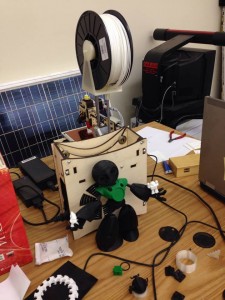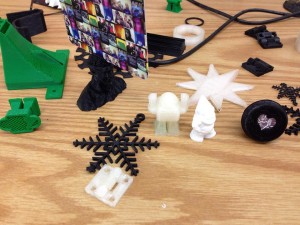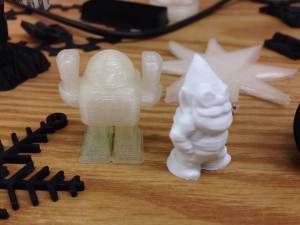 It's pretty fun to watch the 3d printer make items, building them up with a melted abs plastic layer by layer. Some things come out of the 3d printer already moving such as chain and hinges.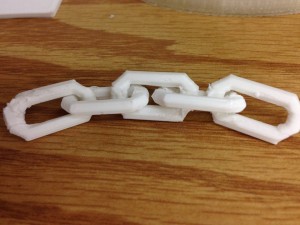 I really enjoy printing things from http://www.thingiverse.com. I'm so thankful for the creative intelligent and assumedly good looking people that create these awesome inspiring objects that they allow anyone to print for free.
Whelp…that's all I got for tonight. Lots of fun and interesting things are happening in this space and in the past few months. I"ll try to upload more pictures and more fun things we are doing here in Lowell.
Till Next time..
Sara